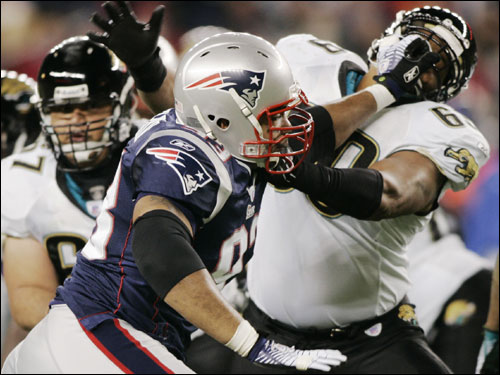 Today is the finale in a five-part series where we identify the 20 most-agonizing defeats in Jaguars history. Be sure to leave us comments about what you remember about those games. Don't worry: we promise to cheer you up next week during the series "Amazing Victories In Jaguars History."
#4 | 12/8/02 vs. Cleveland Browns / 21-20: The Jaguars had taken a 20-14 lead with :56 left in the game against the Cleveland Browns. Coach Tom Coughlin decided to have K Danny Boyd squib the ball, which backfired as Cleveland was able to return the ball to midfield. Three plays later with no time left on the clock, QB Tim Couch tossed a 50-yard Hail Mary touchdown pass to WR Quincy Morgan. The extra point was good, and the Browns escaped with an improbable 21-20 victory.
#3 | 1/12/97 vs. New England Patriots (AFC Championship Game) / 20-6: The Jaguars had done the unthinkable in only their second year in the NFL by winning their last five regular season games and two difficult road playoff games to reach the AFC Championship Game. But the Jaguars did not put up much of a fight, and the legendary '96 run came to a disappointing end as the New England Patriots won 20-6.

#2 | 12/26/04 vs. Houston Texans / 21-0: The Jaguars were riding high after a huge December road win in Green Bay the previous week, and playoff fever was starting to spread among the Jacksonville faithful. But on a cold, blustery December day in Jacksonville that kept many fans away, it really was for their own good as the Jaguars were embarrassed 21-0 by the pesky Houston Texans. QB Byron Leftwich, suffering from a mild concussion sustained late in the 1st quarter, only had 35 yards passing for the game before getting yanked late in favor of backup QB David Garrard. The Jaguars managed franchise lows with just six first downs and 126 net yards gained, and the loss was instrumental in keeping the Jaguars out of the playoffs again. The 21-0 loss was only the second time the Jaguars had ever been shut out.
#1 | 1/23/00 vs. Tennessee Titans (AFC Championship Game) / 33-14: The Jaguars only had 3 losses during the entire season, and they all were at the hands of the Tennessee Titans. The Jaguars took a slim 14-10 lead into halftime of the AFC Championship Game. However, the Titans forced four turnovers and scored 23 unanswered points en route to a 33-14 victory. The loss not only kept the Jaguars out of the Super Bowl but also was the beginning of a 5-year playoff drought.